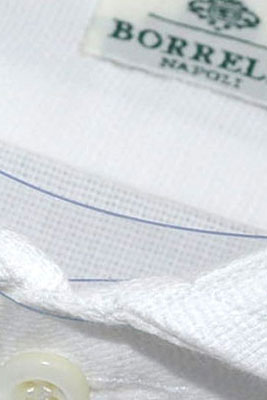 Luigi Borrelli Shirt
White Dress Shirts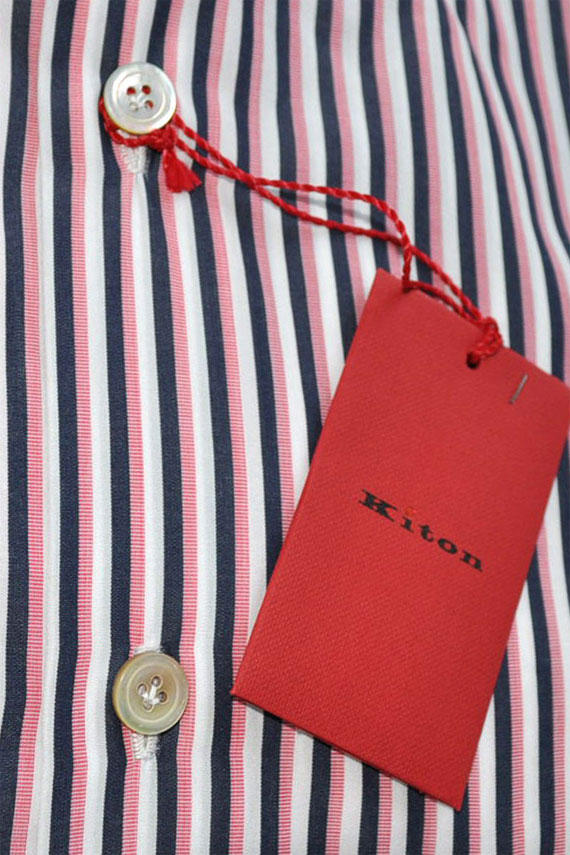 Kiton Napoli Shirts


Discount men designer shirts. Factory outlet store online. Sale.
Read about more details about bespoke and sartorial quality neckties and dress shirts.
Online Outlet Store! Ebay prices but not the hassle!
Men Designer Shirts: Bespoke Men's Designer Shirts: Online Outlet Stores

New Luigi Borrelli Royal Collection

The labels for the Royal Collection Luigi Borrelli dress shirts were a white label, see below. The new label (latest collections, after 2014) for the Luigi Borrelli Royal Collection is navy with gold text.

Luigi Borrelli label in 2013 and 2015 (white label used 2013 and prior) for their high-end Luigi Borrelli Royal Collection shirts, sartorial/ bespoke quality dress shirts hand made in Italy.

New Arrivals at 65% off - Luigi Borrelli Shirts

A dozen new styles just arrived straight from the factory in Italy. Lots of spread collar men dress shirts by Luigi Borrelli. Fancy cotton dress shirts, very soft thin fabrics navy and white shirts for Spring/Summer. Luigi Borrelli men dress shirts at 55% off retail.

Luigi Borrelli shirt feature hand stitched collar, hand stitched cuffs, hand stitched buttons, hand stitched armholes.

Luig Borrelli Shirts

Luig Borrelli has 4 different kind of shirts: Royal Collection, Super Sakellaridis, Luigi Borrelli and Luxury Vintage. The Super Sakellaridis seems to be discontinued since 2014.

Luigi Borrelli Shirts
The most popular collection is Borrelli main collection: Luigi Borrelli shirts. All Luigi Borrelli's men shirts are hand made in Italy. Italian fabrics. This collection is the dress shirt for the professional men who likes the best. Spread collar, pointed collar shirts.

Luigi Borrelli Shirts - Luxury Vintage - Archive 1957
The vintage collection uses popular design from the past. Most shirts are sport shirts with a soft collar or button down collar. For this summer collection we see lots of linen and cotton/linen men shirts. Luigi Borrelli's Luxury Vintage collection is generally a bit more affordable than the other collections. Hand Made. View new designs here: Luigi Borrelli Luxury Vintage Shirts.

Luigi Borrelli Shirts - Super Sakellaridis
The Super Sakellaridis fabrics are amazing. The best of the Egyptian cotton, very exclusive. These shirts are similar to the main collection, besides the fancier fabrics. New Collection Luigi Borrelli Super Sakellaridis shirts are available online at 30% -50% of retail. Outlet Prices.

Luigi Borrelli Shirts - Royal Collection
The high-end of Luigi Borrelli does not compromise. Very fancy fabrics and more hand stitched steps: this special fabrics makes the Borrelli shirt a 35% - 45% more expensive, than regular Luigi Borrelli men shirts. Luigi Borrelli Royal Collection dress shirts retail at $625 - $755 in the USA.


Luigi Borrelli Shirts - Royal Collection


Luigi Borrelli Shirts - Royal Collection


Luigi Borrelli Napoli Shirts - Hand stitched collar, buttons, armhole, shoulders and cuffs!

Borrelli´s basic philosophy was and keeps on being to offer a shirt with perfect fitting. Hand made for many years by craftsman in Italy. The armhole is hand stitched, which gives it more realistic fit then machine made shirts. Made in Napoli, Italy. The collar, buttons, armhole, shoulders and cuffs are hand stitched. the Luigi Borrelli men dress shirt ships in beautiful Luigi Borrelli gift box.

Neapolitan tailors, Neapolitan traditions. Sartorial quality.

"The World's Best Dress Shirts"

July 2007, GQ Magazine

"hand stitched elements: collar, buttons, armholes, shoulders, and cuffs. Thanks to all that hands-on care, each shirt is resilient, feels soft and supple in all the right places, and achieves an elegant, formfitting Italian silhouette."

Typical to the Luigi Borrelli Shirt:

• Round armholes—instead of the usual oval ones—for a slimmer fit across the chest
• Invisible three-point stitch used to sew on buttons, a traditional Neapolitan technique
• Thicker, sturdier buttons than on most dress shirts

visit www.tiedeals.com for latest collection of Luigi Borrelli dress shirts.
designer dress shirts . sale . discount shirts . french cuff shirts . men shirts sale . men shirts online
Bespoke Dress Shirt For Men

Luigi Borrelli Royal Collection

Luigi Borrelli's high-end collection with even fancier fabrics and more sartorial detail. Many classic style in white/ blue and navy stripes and check designs.

Brioni

Brioni started a high-end line of dress shirts at $725 and up, Brioni Sartoriale collection. Expected very fancy cotton, classic styles, with 11 hand stitched steps. Brioni Sartoriale Collection.

Isaia

Dress shirts of Isaia Napoli, many classic stripes, solid and checks designs, seem to have a following. The Isaia shirt is hand made in Napoli.

Luigi Borrelli Royal Collection Ties Summer

Genuine Borrelli Roal Collection 7 fold ties:


Shop at 35%- 55% off: Luigi Borrelli Royal Collection Ties Summer
Expected:
Mattabisch Napoli Shirts
Isaia Napoli Shirts
Kiton Shirts
Lots of New Arrivals
40-60% off
Luigi Borrelli Shirts
New Collection Dress Shirts
35-60% off
Brioni Shirts
Great Selection of Button-Down Men Shirts, Linen Shirts and Dress Shirts
35-60% off
also:
Factory outlet store online.